Euro Hello! is a travel agency trying to do its best to not be a travel agency. Targeting late high school and college-aged students, Euro Hello! wants to educate and engage students not by checking off a prescribed list of obligatory highlights, but rather by providing as culturally immersive an experience as possible. To do this, they employ locals and ex-pats living in Europe to develop and oversee the city, regional, and national tours that stress cultural immersion and discovering the unique traits that set these places apart. To help them in this task, I was asked to develop a full branding identity. 
My solution is about engagement and whimsy. How do you entice students to travel with an educational component in mind without making the entire process seem like a textbook come to life? My solution answers that question with bright colors, surreal imagery, and a point of view that highlights the whimsical components of individual culture. Great care was taken not to engage in stereotypes and cliché, but rather strive to find the underlying differences and celebrate them. Euro Hello! accomplishes this by consulting with locals and ex-pats. 
Print design stresses readability in key information while experimenting with shape and color in the other areas where type is used more decoratively. I created a custom preset in Lightroom for Euro Hello! to use for all the images. To create the collages, I masked out imagery by hand in Photoshop and combined them spontaneously focusing on creating a surreal composition.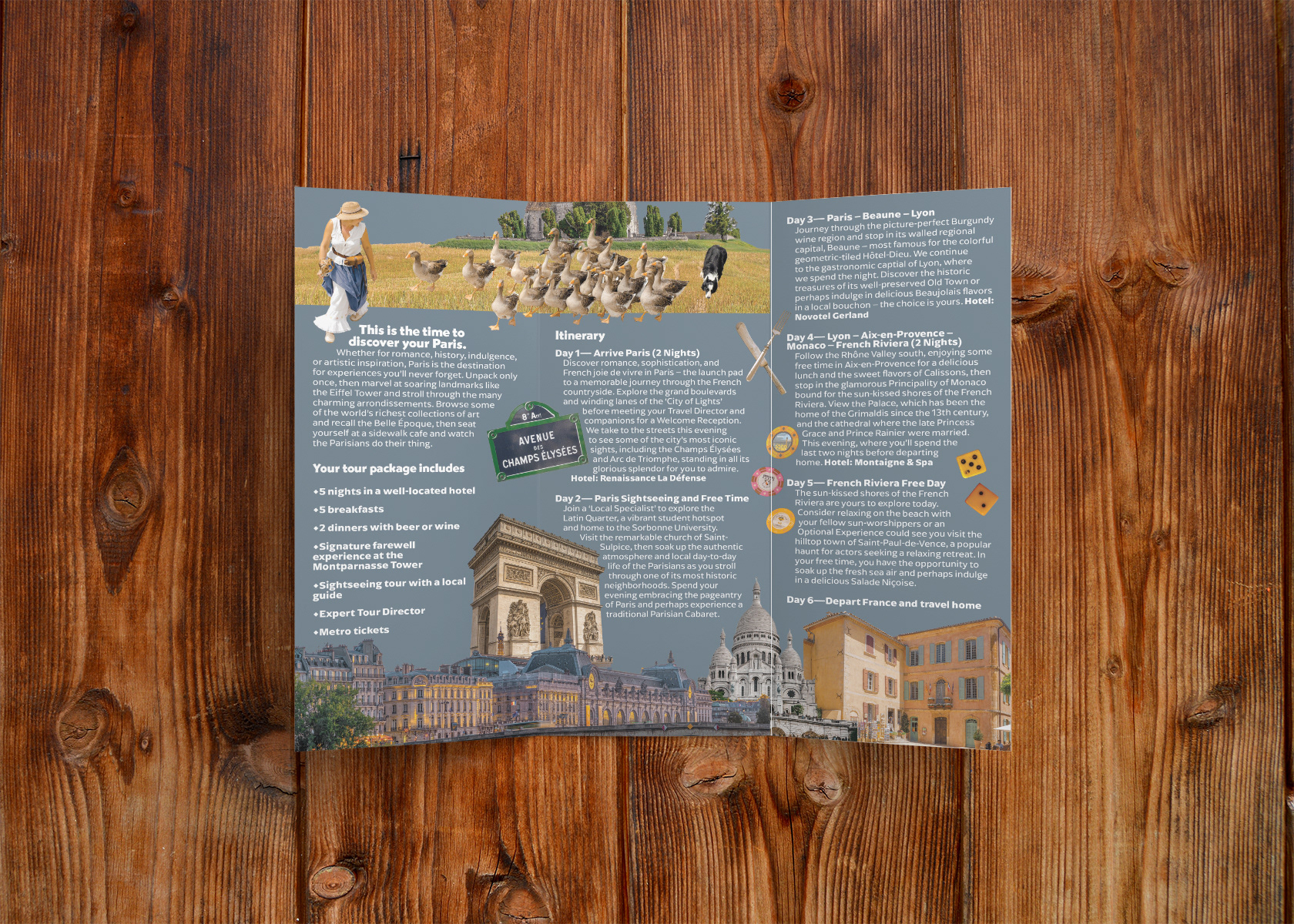 I designed a social media campaign around unusual facts about each tour destination. The campaign was developed with Euro Hello!'s goals in mind: educate and engage. This campaign positions Euro Hello! as the educational agency that students want to be a part of and that parents trust. Also, students discover unique information about each cultural location, ultimately leading them to celebrate cultural differences.
Lastly, a mix of swag and souvenirs were included in the branding. Utilitarian swag, such as canvas totes and water bottles, are offered alongside items like t-shirts. This swag is designed for students to express themselves but also positions Euro Hello! as a respected and trusted student travel agency on campus.